For the casual cook preparing a meal, a recipe serves as a guide to making a dish. For a chef, recipes are valuable intellectual property that has a significant impact not only on a restaurant's product (food) but also on its operations.  There's been no way to effectively manage recipes for culinary professionals until now.  meez is a digital recipe management platform founded by a chef that extends beyond ingredients and instructions.  By digitizing the recipe book, chefs for the first time are able to effectively manage staff training, costing, nutritional data, ideation, and execution across multiple kitchens and markets.  The platform is already deployed in 1200 kitchens nationwide and in a variety of settings – fine dining, fast casual, ghost kitchens, and catering businesses.  Chefs are able to granularly understand how granular recipe choices are impacting the bottom line, something that's not practical with traditional restaurant management platforms. Meez is available on a freemium basis with the premium package costing $79 per month.
AlleyWatch caught up with meez Founder and CEO Josh Sharkey to learn more about the business, the company's strategic plans, latest round of funding, which brings the total funding raised to $18M, and much, much more…
Who were your investors and how much did you raise?
In this current round, a Series A was led by Craft Ventures with participation from Struck Capital, FJ Labs, AME Cloud Ventures, Moving Capital, Max Mullen, Lenny Rachitsky, Mike Montero, Bobby Lo, Austin Rief, Louis Beryl, James Beshara, and Allison Pickens and the Todd & Rahul Fund.
Tell us about the product or service that meez offers.
meez is a recipe management platform designed by chefs for the entire culinary workflow from recipe creation, iteration, training, production, collaboration, organization, costing, nutrition, and allergen analysis to sharing and distribution of content.  The technology leverages a built-in database of chef-tested ingredient yields and dynamic unit conversions plus allergen and nutrition data as well as a magical proprietary recipe ingestion functionality all housed in a beautiful and intuitive UI designed to mimic how chefs already experience recipe management offline today.
What inspired the start of meez?
Well, the original insight that led to new was a very novel one, many years ago.  In 2003, while working in kitchens in NYC I lost a notebook containing all of my recipes, ideas, techniques I had been documenting.  I wanted a way to digitally store these to never lose a recipe again.  (That was before Evernote and cloud apps).  The idea grew over time as I count inked to cook, then oversee kitchens as a chef and finally own and operate my own restaurants.  I was frustrated along the way that the only technology available to us as chefs / kitchen professionals for our recipes was ERP systems and inventory software.  None of these systems solved the pain points we have as it relates to the process of cooking, training, execution, and organization of our recipe content.  I finally decided that I would have a much bigger impact on our industry if I could build a tool like meez and ultimately, I realized I just had to jump in and get it built!
How is meez different?
meez is a completely new category of technology for food professionals, a professional recipe workflow tool and platform for managing your IP. Unlike ERP and inventory systems that may contain a "recipe module" for reporting purposes built for the operations team, meez is built for day-to-day use by the cooks in the kitchen in addition to the creators of the content and the operations teams.  Additionally, unlike any other recipe tool, meez has built-in all the necessary ingredient metadata so chefs don't have to do that laborious and time-consuming work to get accurate food costs, nutrition, and allergen data.
What market does meez target and how big is it?
meez targets every food professional that operates in a kitchen or a cocktail bar.  There are over 5MM chefs and 20M professional kitchens worldwide.
What's your business model?
meez is a SaaS business with several pricing tiers as well as a freemium. Edison.  We also offer ancillary services such as Recipe Upload Service and consulting, Invoice OCR Processing, and EDI feeds.
How are you preparing for a potential economic slowdown?
We are focused on getting our burn multiple as low as possible and generally prioritizing making sure our current customers are incredibly happy and that every new customer has a magical first experience.  Ultimately, I believe if we continue to serve the industry well and keep our customers happy, that we will remain healthy.  That said, I am keenly aware of thresholds that we need to be above in order to maintain our current model and will make quick adjustments as soon as we are below that threshold.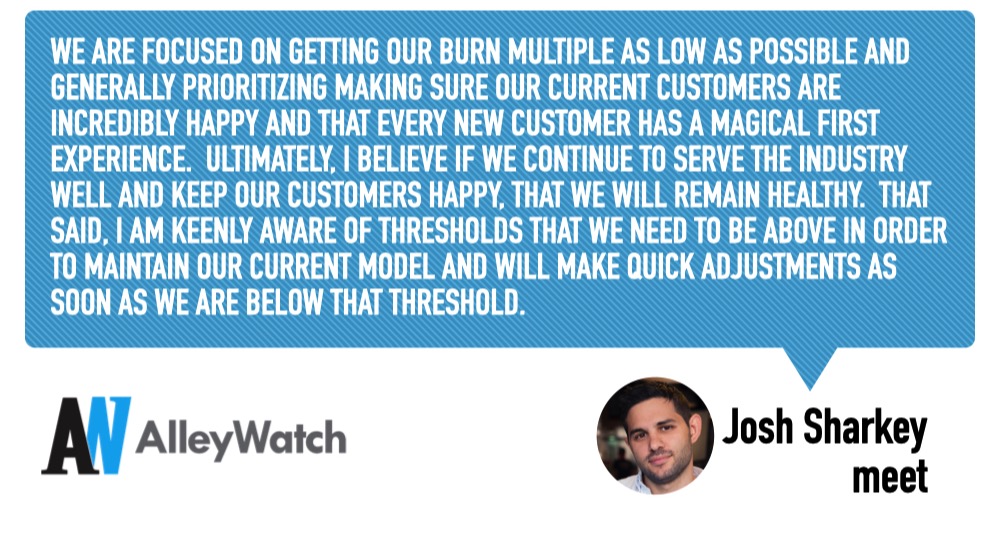 What was the funding process like?
The initial fundraising g process for meez was definitely a grind as we were challenged with proving that there was space for an altogether new piece of the tech stack for restaurants and food businesses focused deeply on the process of cooking and execution, given the industry has been inundated with ERP and inventory software that have been the assumed solution for managing recipes.  That was an uphill battle, and I made a conscious decision to focus on revenue somewhat early on in the process to prove that culinary professionals were willing and eager to pay for a recipe solution that they desperately were lacking in a digital tool.  We were lucky that this moved rather quickly after initial launch and we're able to grow revenue over 25x within months 1 to 12.  The most recent funding round relied more on a combination of hitting some specific metrics we planned for Series A and landing a large partnership that requires more resources for the company, both of which helped to pre-empt an investment from Craft Ventures.  We've been incredibly lucky to have investors like Craft, Struck Capital, and Relish Works among others following on along from Seed to Series A.
What are the biggest challenges that you faced while raising capital?
The biggest challenge we faced raising capital has been that we are creating an altogether new category of technology, so there are no great direct comparisons to benchmark against.  This has caused some comparison bias and generally flawed comparisons to solutions such as inventory systems or even POS systems.  The TAM is actually much bigger given we amplify rather than replace back office solutions such as those, this our charge was to convince investors of this notion.
What factors about your business led your investors to write the check?
I would venture to guess that the 3 primary factors that led to investors writing the check were: 1)the velocity of growth, 2)A low CAC / great sales efficiency given we are product led and do not leverage a sales team and have grown organically, and 3) a deep knowledge of the domain given I am building a solution to my own problem as a chef and restaurant owner/operator.
What are the milestones you plan to achieve in the next six months?
The next 6 months are focused on creating an exceptional v2 of our self-onboarding experience as well as launching a game-changing new way to manage menus.  From a growth perspective, we plan to continue 3x growth YoY.
What advice can you offer companies in New York that do not have a fresh injection of capital in the bank?
I would suggest getting maniacally focused on your ideal customer, making sure you are solving a big problem for them and staying focused on the one thing that you believe will have the biggest impact.  This coupled with a very clear objective and KPI to measure success not only keeps the team focused, but preserves precious resources by prioritizing only what matters most and removing initiatives that could drain resources before you get to the next milestone.
Where do you see the company going now over the near term?
In the short term, we are still staying in our lane creating a universal recipe medium and making meez more accessible and easy to adopt by every culinary professional worldwide.
What's your favorite restaurant in the city?
That is a TOUGH question because I love so many of them and so many of my close friends are chefs in the city.  And it depends on the mood, occasion, and who I'm dining with.  That said, a buddy of mine and one of my favorite chefs just opened up a restaurant called Koloman in the Ace Hotel that I think everyone should definitely check out!
---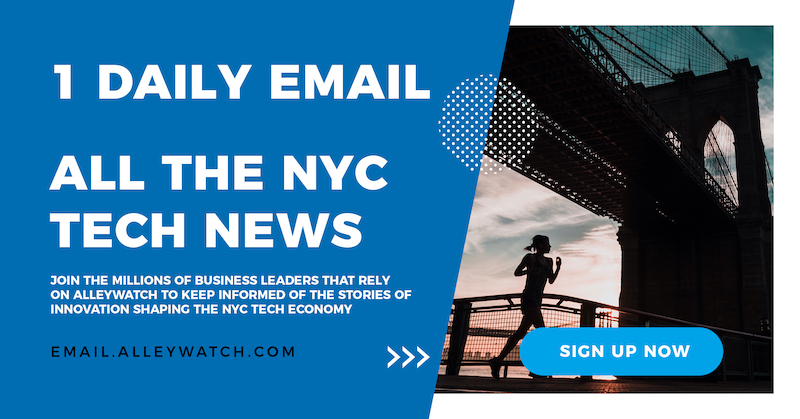 You are seconds away from signing up for the hottest list in Tech!
---