Travel hacking, or using a combination of points, rewards, loyalty programs, offers, and credit cards, has become increasingly popular as a way to save money on travel plans.  However, saving money takes time and often the opportunity cost of saving a few dollars isn't worth the time that is expended.  Point.me is a metasearch engine for travel hackers and aspiring travel hackers to discover real-time flight reward options from over 33 loyalty programs by streamlining the process. Typically, every point earned through loyalty programs equates to a $.01 in redemption value, the platform features opportunities to redeem at 6-12x that rate.  The platform features options that are actually readily bookable, unlike other offerings that show compelling offers that are not available, and walks you through the exact steps needed to go from points transfer to bookings, which can be a convoluted process for those who have never maximized points previously.  Point.me offers a dashboard that allows you to centralize your rewards into one place and allows booking on over 100 airlines through its self-serve option; the company also offers a concierge service that allows experts to make bookings.   Self-serve is free to try and then $12/month and the full-service concierge is available for $200 per passenger per booking.
AlleyWatch caught up with point.me Founder and CEO Adam Morvitz to learn more about the business, the company's strategic plans, latest round of funding, which brings the total funding raised to $12M, and much, much more…
Who were your investors and how much did you raise?
The $10M Series A round was led by Thayer Ventures with significant support from PAR Capital Ventures, RiverPark Ventures, Plug and Play Ventures, and MoreThanCapital.
Tell us about the product or service that point.me offers.
point.me is a first-of-its-kind metasearch engine and concierge service on a mission to make smarter travel more accessible and approachable. Using proprietary technology, our platform checks for flights across 33 loyalty programs on more than 150 airlines to uncover a multitude of real-time award flight options.
What inspired the start of point.me?
We created point.me to make it easier for everyone to find better flights for fewer points in a simplified, easy-to-use format. A staggering number of points go unredeemed every year, estimated at $20B pre-pandemic and as high as $30B currently. Redeeming points is typically a time-consuming, complicated, and frustrating process. Our mission is to make it as easy as possible for travelers to find the best deals, no matter the loyalty program
How is point.me different?
There is nothing like this on the market! Our reward search offers real-time, validated results in a way that no one else can. There are a few pieces to this:
Our easy-to-use, simplified format
Our algorithm understands how complicated credit card points and frequent flier programs fit together, and allows consumers to get 6x-12x the value versus booking via their credit card portal at 1¢ a point. What would literally require research across 100 browser tabs can now be achieved in one search via point.me
We decode credit card rewards
We have consolidated more than 35 data sources to help members unlock untapped value on over 150 airlines, including Delta SkyMiles, AA AAdvantage, United MileagePlus, Southwest Rapid Rewards, JetBlue's TrueBlue leverage, and more – no matter which points you have already!
We do the hard work for you
Our service does all of the heavy lifting, and our algorithm considers airlines, airports with the easiest connections, programs with the best customer service and more when suggesting a "point.me pick".
We care about your points, and double-check everything
Not only do we collate flights, we run extensive business rules and logic to validate that the flights you see on point.me are flights you can actually book – something that sounds obvious, but is a unique challenge when it comes to award flights. Then, the service walks users through every step from point transfer to booking.
What market does point.me target and how big is it?
Our ambition is to serve anyone who earns any form of loyalty points, whether they're accumulated by flying on a plane, staying at a particular hotel, or signing up for a rewards credit card.
What's your business model?
We offer a standard plan that costs $12 per month or $144 per year and comes with unlimited searches, the ability to sync reward account balances, step-by-step booking instructions and exclusive monthly destination tips. We also offer a self-serve premium plan that costs $260 per year and comes with everything in the standard plan, along with a 10% discount on all concierge services, a personalized points consult call and five starter passes to gift friends and family.
We also have a $5 starter pass that gives users access to our standard plan for 24 hours and a concierge service that comes with full-service booking for $200 per person.
How are you preparing for a potential economic slowdown?
Tiffany (cofounder) and I built our prior businesses during the last recession, and guided the nascent point.me through a pandemic and period of economic uncertainty,  so we have some experience with managing the business tightly and pulling various levers as needed. We also know that people become more interested in using their points in a cash crunch, so think we're well-positioned.
What was the funding process like?
It wasn't easy! The seed round took place at the beginning of a global pandemic, compounded by a time of economic uncertainty during the A round. Actually closing the rounds is a validation of our product, the incredible team we've assembled, the Total Addressable Market, and understanding the pathway for everyone to travel better. Partnering with investors who are able to see that future and broader vision was key.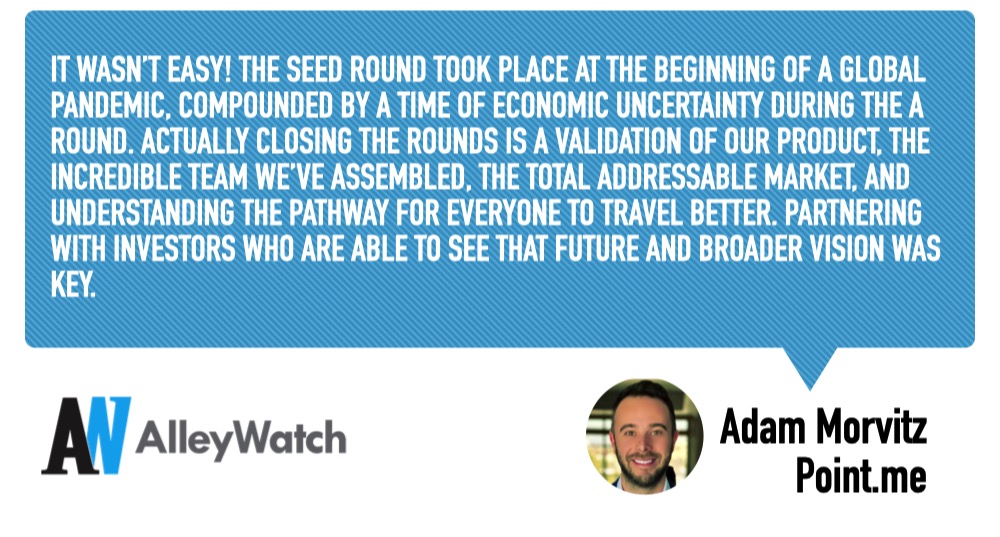 What are the biggest challenges that you faced while raising capital?
Timing, timing, timing. We had bad luck with this in both rounds, which made things much more difficult than they might have been otherwise. It ultimately worked out well for us, in that our round was led and filled by experienced investors who were looking at the bigger picture.
What factors about your business led your investors to write the check?
Our investors were excited by our mission to make smarter travel more accessible and approachable and are interested in supporting our team as we forge additional partnerships with top credit card providers, scale our subscription model and build out our b2b business.
What are the milestones you plan to achieve in the next six months?
In the coming months, we will be launching additional partnerships and integrations with leading credit card companies.  Currently, we operate in tandem with providers including American Express, Bilt, Capital One, Chase and Citi, and we will be launching deeper integrations with existing partners and forging new partnerships.
Additionally, we have some very exciting features planned that will expand the ways consumers think about using their points.
What advice can you offer companies in New York that do not have a fresh injection of capital in the bank?
Take advantage of living in the greatest city in the world! New York has a dynamic startup culture right now, and uniquely – seemingly everyone wants to help. There's an unmatched sense of community here, so attending local events is critical. A casual introduction to another founder led to an intro to a partner of theirs that led to one of our key A investors!
Take advantage of living in the greatest city in the world! New York has a dynamic startup culture right now, and uniquely – seemingly everyone wants to help. There's an unmatched sense of community here, so attending local events is critical. A casual introduction to another founder led to an intro to a partner of theirs that led to one of our key A investors!
Where do you see the company going now over the near term?
In the near future, we are focused on adding a variety of new functionality into the product. In the long-term, we'd like to go beyond search and become the go-to loyalty management site for travelers, using our investment in data to improve the experience for our customers and enterprise partners.
What's your favorite restaurant in the city?
Pylos is my always-favorite, and my go-to for out-of-town visitors.
---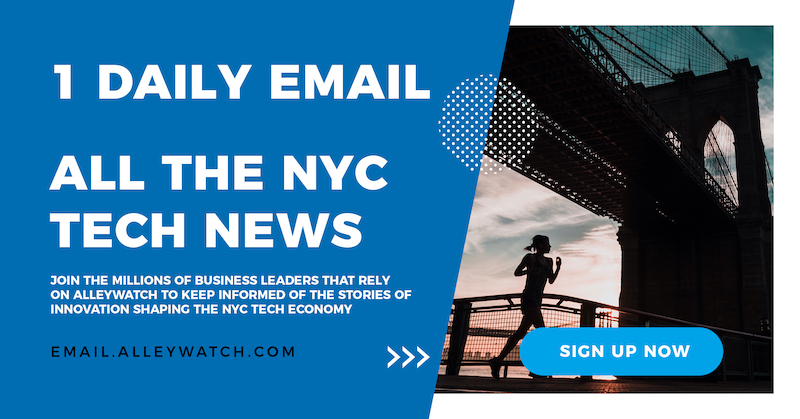 You are seconds away from signing up for the hottest list in Tech!
---