Despite the United States spending twice the amount as any nation on healthcare, life expectancy is decreasing as a result of a confluence of factors like COVID, drug overdoses, and accidental injury.  There is an emerging science of longevity that looks as aging as a modifiable process that not only looks at your genes but epigenetics or how your genes are impacted by your environment and behaviors to increase life expectancy.  Tally Health is a consumer-focused biotechnology company that takes a holistic approach to improving longevity.  Offered as a membership program, the company provides a quarterly epigenetic test to understand your biological age and if your body is susceptible to specific conditions at a given point in time.  Based on the profile findings, Tally also provides curated recommendations to improve your cellular health along with personalized supplements to address your metabolic health.  All supplements are clinically-developed and vegan, non-GMO, allergen-free, gluten-free, and made with no preservatives.
AlleyWatch caught up with Tally Health CEO Melanie Goldey to learn more about the business, the company's strategic plans, recent round of funding, and much, much more…
Who were your investors and how much did you raise? Was it seed, Series A, B, etc?
We are thrilled to have completed our $10M Series Seed funding shortly following our commercial launch in February. The round was led by Forerunner Ventures, with additional participation by L Catterton, which incubated and initially backed the company, and G9 Ventures. In addition, celebrities including John Legend, Chrissy Teigen, Pedro Pascal, Shonda Rhimes, Kevin Hart, Rich Roll, Whitney Cummings, and Zac Efron have individually invested in the company.
Tell us about the product or service that Tally Health offers.
Tally Health is a consumer biotechnology company cofounded by globally renowned longevity scientist Dr. David Sinclair and serial entrepreneur Whitney Casey, Venture Partner at L Catterton. Leveraging decades of clinical research, we developed a proprietary next-generation epigenetic clock that was trained to predict a person's epigenetic age and takes into account differences in lifestyle factors such as sleep, diet, exercise, and stress. We then offer members personalized recommendations to help them improve their overall wellness at the cellular level, and unique longevity supplements that are designed to address established hallmarks of aging. The Tally platform provides consumers with a holistic system to measure, improve, and re-measure to track their progress over time.
What inspired the start of Tally Health?
We believe aging is a disease that is treatable. But you can't change what you can't measure. We initially set out to create the most accurate epigenetic age test but then quickly expanded that to be a larger platform to help people discover ways to improve their health but with a plan that is customized for them – because it's not just about knowing "your body's credit score", you also need to know what to do about it.
How is Tally Health different?
Tally is changing the way we think about aging and will revolutionize the way we use biological age as a metric. With proprietary, science-backed supplements, personalized insights, and actionable lifestyle changes to address aging, we're helping users gain control of their healthspan and future like never before.
Tally is especially unique compared to other at-home epigenetic age tests currently on the market because our algorithm was trained on the largest and most diverse consumer DNA dataset for human buccal tissue. Additionally, our test uses a buccal (cheek) swab, which is painless, more convenient, and less messy than saliva or blood.
What market does Tally Health target and how big is it?
Longevity presents an extremely large, untapped opportunity, particularly in the context of its fundamental, universal importance — everyone ages, and increasingly savvy, health-conscious generations are highly motivated to have more agency over the process and ultimately live a more fulfilling life. The global longevity economy is projected to reach an astounding $27T in 2026 and the AgeTech segment alone reaching $2.7T by 2025.
What's your business model?
We offer a holistic membership platform for individuals that includes an epigenetic age test every three months, personalized Action Plans and content, and a comprehensive, daily longevity supplement. These components work together as a system that enables people to track their progress over time.
What factors about your business led your investors to write the check?
The inspiration from our investors to participate was influenced by pure demand for more science-backed longevity innovations for consumers. There is a growing global consumer interest in evaluating health through the lens of longevity, and also a growing understanding of how previously complicated, stigmatized, or overlooked areas within health are now gaining new importance through evolved consumer aspirations and values.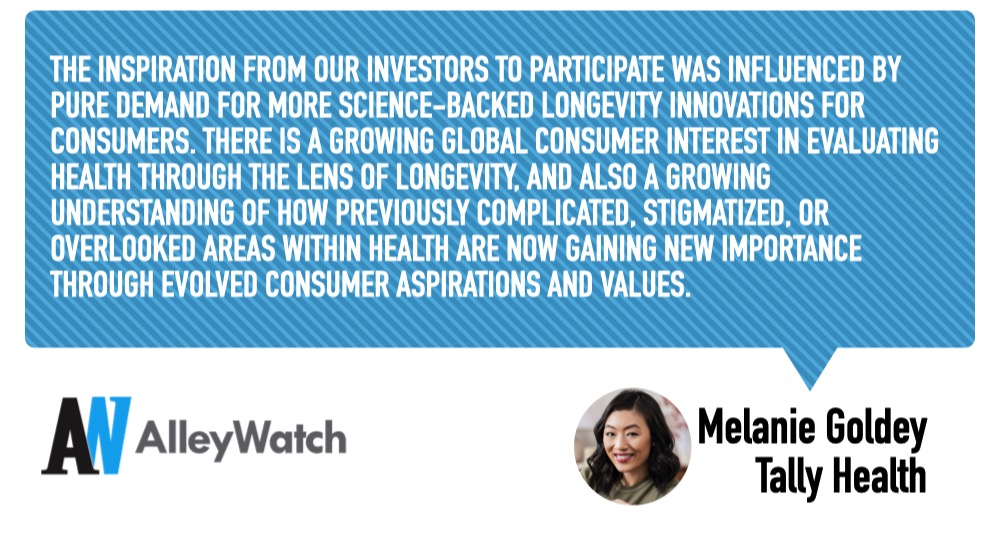 What are the milestones you plan to achieve in the next six months?
We are actively developing additional features and technology integrations to continue bringing high value-add functionality and customization to our members. We have a number of exciting research and development initiatives in the pipeline. And we will continue to bring new members into our community.
What advice can you offer companies in New York that do not have a fresh injection of capital in the bank?
Make sure you have a solid and real-time understanding of your cash runway and the biggest drivers of leverage within your operations so that you can make agile, swift, and informed decisions. And anyone who has ever raised money before will know that fundraising always takes longer than you think, so make sure you have some buffer in your timeline.
What's your favorite restaurant in the city?
Lure Fishbar has always been a favorite and I also love Enrique Olvera's restaurants, Cosme and ATLA.
---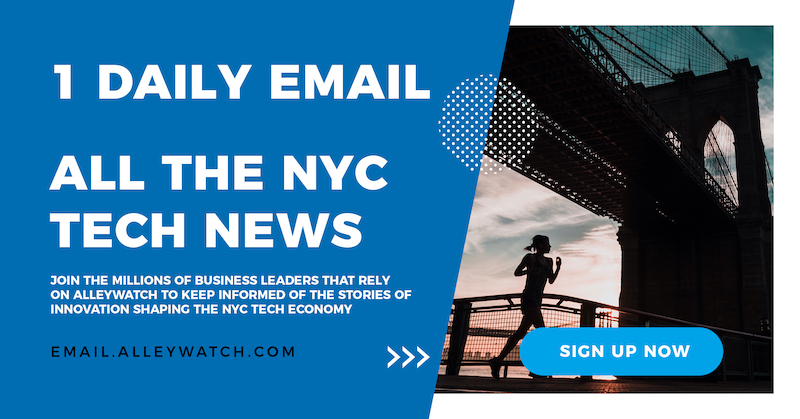 You are seconds away from signing up for the hottest list in Tech!
---