While innovation in fintech has undoubtedly created value for consumers, it's also introduced another layer of fragmentation both for consumer and financial service providers.  Neo banks, digital asset exchanges, investment apps, and credit cards are all among the varied options today's consumers have but most nascent fintech companies leverage open banking protocols to target a narrow focus and offer services to address only one or two of these needs.  Fierce, billed as a "Finance Super App" looks to eliminate this fragmentation with its platform that provides individuals banking, both stock and crypto trading, and a credit card all within a seamless experience.  Cash on the platforms earns a 4.25% APY, can be accessed through a no-fee debit card at 55K+ fee-free ATMs, and is FDIC insured.  Fierce's no-fee credit card will launch later in the year, offering 1.5% rewards on spending that can be paid in cash, stock, or crypto.
AlleyWatch caught up with Fierce CEO and Cofounder Robert Cornish to learn more about the business, the company's strategic plans, launch, recent round of funding, and much, much more…
Who were your investors and how much did you raise? 
The $10M Seed was raised by leading institutional investors, including Pendrell, AP Capital, Wheelhouse Digital Studios, Space Whale Capital, and several notable angel investors.
Tell us about the product or service that Fierce offers.
Fierce is a user-friendly, yet powerful finance super app that allows people to streamline their investments easily. You can fund, invest, spend and earn rewards on everything from cash to ETFs to stocks — all in one place.
What inspired the start of Fierce?
Fierce was founded and built by a team of industry veterans, including executives from several U.S. stock exchanges, neo-banks, traditional banks, and crypto platforms — who all felt the absence of 'feel-good' finance in the sector. With the current volatility in the markets and the world, we set out to create a returns-focused, safe, and secure harbor that our customers know they can trust.
How is Fierce different?
Fierce stands out from other wealth management platforms because we don't charge monthly fees or impose restrictions that lock up your cash to access top-tier rates. With Fierce, customers don't have to pay a fee to access high-yield returns, and they also have the ability to earn interest on stocks and more.
Instead of fear and hype tactics, we help individuals feel more confident with their finances. A stand-out, unique offering is the Fierce Cash account — an FDIC-insured checking account that earns an industry-leading current rate of up to 4.25% APY, where cash is available 24/7 via a no-fee debit card with access to over 55,000 fee-free ATMs.
What market does Fierce target and how big is it?
Fierce is available for anyone who wants to do more with their money. Maybe they're already investing in stocks, curious about cryptocurrency, or just want to earn more interest on their cash — we are there to help all individuals navigate that journey.
What's your business model?
Fierce is a first-of-its-kind platform that helps customers get first-class yields on their assets, and only profits when the customer receives a tangible benefit or value from the app.
How are you preparing for a potential economic slowdown?
Fierce is preparing our customers for a potential economic slowdown by helping eliminate uncertainty when it comes to their finances. With our all-in-one platform, customers can manage their investment portfolio friction-free. It's important that customers have the ability to unlock new opportunities to earn rewards in a way that best benefits them, whether it be compounding investments or earning great yield on their cash, all through their everyday banking, investing, and spending activities.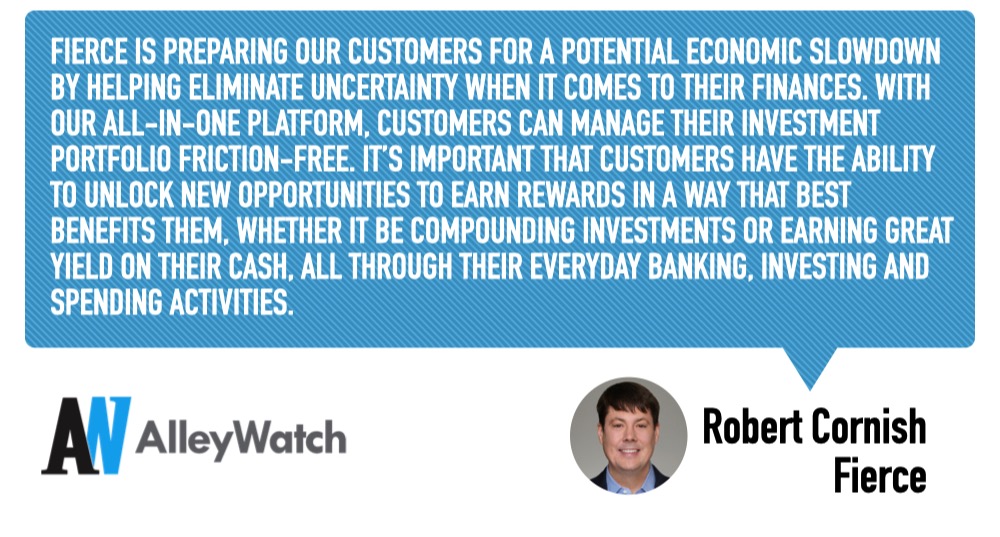 What was the funding process like?
It was a bit daunting at first as you think about going through what seems to be a blind, speed-dating process with investors. We ended up deciding to take a different path that leveraged existing relationships of people that we knew and trusted to help make introductions to great people and firms that would also be great partners and investors for the long term.  Fierce is fortunate to have found investors who are just that and who also believe strongly in our mission of helping people unlock financial greatness.
What are the biggest challenges that you faced while raising capital?
Our greatest challenge throughout the process was being able to find the time for it, while keeping our focus on building the company, product, and team. However, we are fortunate to have found great partners and investors who made the process smooth and immediately added value to our conversations along the way.
What factors about your business led your investors to write the check?
We were able to get such great support because Fierce is filling a huge market need at this time: an aggressive focus on customers and their returns. Investors were attracted because of the experienced team behind it. We are honored to have such a great group of investors with a mix of strong traditional backgrounds and startup experience, all with a track record of innovation.
What are the milestones you plan to achieve in the next six months?
We are laser-focused on releasing our crypto and credit card offerings, and developing new innovative offerings for customers. The Fierce Rewards Credit Card will be available later this year, and will give consumers 1.5% cash back on all their spending. The rewards are even automatically redeemed, so users don't need to worry about managing it all.
What advice can you offer companies in New York that do not have a fresh injection of capital in the bank?
Fundraising can be incredibly challenging during these times, but great companies are often born during them. Resiliency and staying lean go a long way toward helping you get through downturns.
Where do you see the company going now over the near term?
In the near term, we plan to continue developing new products, growing our team, and bringing the benefits of the app to as many people as possible.
What's your favorite winter destination in and around the city?
It's such a beautiful time of year in the city with all the holiday celebrations and festive decorations. There are many great destinations throughout the city, and one of my wife and I's favorites is to take our kids ice skating in Bryant Park. It's a fun outside activity for the whole family.
---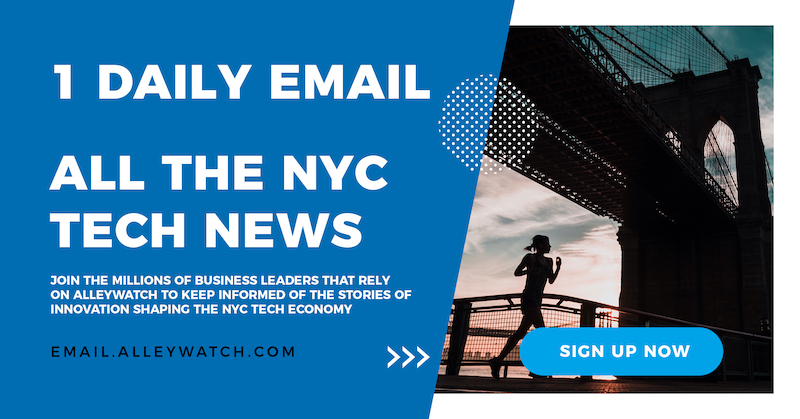 You are seconds away from signing up for the hottest list in Tech!
---