When you buy a song on iTunes you are only buying the right to listen to that song.  One of the most compelling aspects of blockchain and NFTs usage for the music industry is the embedded provenance options. Going on-chain not only allows innovative financing, ownership, and licensing models but also offers the opportunity for artists to connect with their fan communities in novel ways.  Decent is a no-code infrastructure platform and SDK that offers the music industry and artists to build varied web3 applications with little effort and specialized knowledge. Creator HQ is the company's flagship product that allows both creators and developers to create NFTS and smart contracts on any EMV-compatible chain.  The platform is open-source and offers integrations to streamline the pre and post-mint process including AI generation of NFT images using DALL-E, dynamic token pricing, rentable tokens, treasury-backed tokes, and staking.  Founded by a former banker and current artist, the platform has been conceived to allow artists to exercise rights to ownership and copyright effortlessly while also democratizing monetization and fan engagement, giving musicians the flexibility to focus on creating without worrying about the business end.
AlleyWatch caught up with Decent Co-CEO Charlie Durbin to learn more about the business, the company's strategic plans, recent round of funding, and much, much more…
Who were your investors and how much did you raise?
We raised a $3.5M Seed Round led by Archetype, Y Combinator (YC W22), Circle Ventures, Palm Tree Crypto, Road Capital, Stateless VC, AngelDAO, Coinlist, OrangeDAO, Soma Capital, and MAGIC Fund with participation from Ilya Fushman, Kleiner Perkins, Cooper Turley, Coop Records, Ian Lapham, Uniswap, Eleni Steinman, Loop Crypto, Nick Pappageorge, prev. Delphi Digital, Sapphire Ventures, Rico Mallozzi & a handful of others.
Tell us about the product or service that Decent offers.
Decent has a no-code application and SDK that makes it easy for anyone to build innovative web3 applications and NFT releases.
What inspired the start of Decent?

Our cofounder Xander Carlson is a full-time artist (signed to Sony's Palm Tree Records) and his journey through the music industry from independent artist to label-signed and touring with Kygo and the Palm Tree Crew.
Our vision was also informed by my time in investment banking where I worked M&A for music industry companies and saw from the financial/analytical side of the market.  Namely that the financial condition for artists has remained restricted and unchanged over the years despite exponential growth in each artist's fanbase.
How is Decent different?
We believe friendly UX tooling will ignite mainstream adoption of crypto rails, enabling creators and developers to autonomously monetize their work. This is particularly important in historically gatekept industries where creators earn as a derivative of platforms.  To that end, we believe our infrastructure is the core product and take significant pride in developing new primitives that capitalize on unique innovations and properties of blockchain development.
The music industry needs new monetization channels for artists, which requires new tooling.  New monetizable applications depend on permissionless access to music and development with it (note: not free access, just at-will access) with an automatic and transparent flow of funds.  We believe our infrastructure is the bedrock for rapid and compounding innovation in the music industry.  To expedite adoption, we developed a real full-stack implementation, offering open-sourced smart contracts, a JavaScript SDK wrapper so developers can implement functions without knowing Solidity, and a no-code application creators can use – the Decent Creator HQ.
At a product level – we are the only full-stack, cross-chain NFT creation product. Other differentiators:
powered by a proprietary cross-chain indexer
we have the most unique smart contracts available
we work with both independent creators/developers
larger companies for custom implementations
have a number of unique applications all sharing abstracted user information and settlement rails.  We believe it's really important to avoid fragmenting audiences despite enabling a plethora of unique applications.
What market does Decent target and how big is it?
Our tools are all based on NFTs, so the NFT market is arguably the nearest comp: ~$21B today growing at a CAGR of 34%.
#'s a little stale here but recorded $160M of music NFT sales.  Sub-sector growing most quickly / performing best through the bear market so assume its percentage of total NFT sales to grow significantly to ~1-5% of the market (total estimate but our working assumption).  Believe music NFTs to be a billion-dollar market of which we can capture a significant share due to a differentiated approach and best-in-class tools.
What's your business model?
We are set to begin charging for premium SDK + API endpoints + premium features in the HQ + a fee on sales through the HQ.  The protocol will likely remain free for developers to use and contribute to & anything we view as a commoditized or easily replicable feature will also remain free.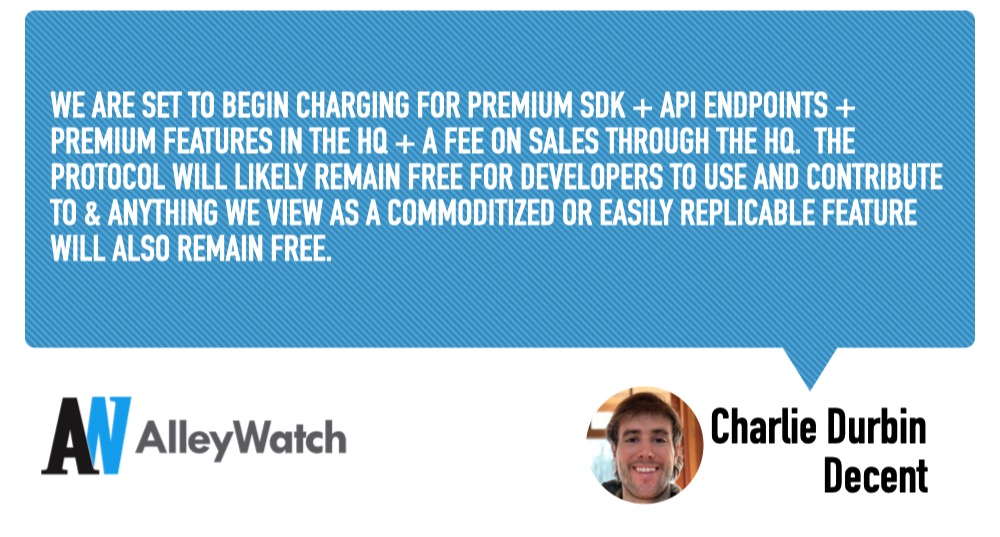 How are you preparing for a potential economic slowdown?
We've been very conservative on hiring to maximize runway.  Strategy is to quietly gain market and mind share of market participants and be well positioned to really capitalize on that work in the next bull cycle.
What was the funding process like?
We were part of YC's W22 cohort, so fortunately we were able to raise in a relatively structured process using demo day as a catalyst for investor interest.  I think everyone has a different experience, but we were really lucky to have Archetype commit to leading the round early & were able to fill out a great round with their help.
What are the biggest challenges that you faced while raising capital?
Skepticism around the music market, new mechanisms, and a more financially-minded approach.  The popular narrative w. NFTs was and still largely is that they are most interesting as a new way to express patronage.  We believe NFTs can have far more interesting implementations; however, we still think we bear the burden of proof for that thesis.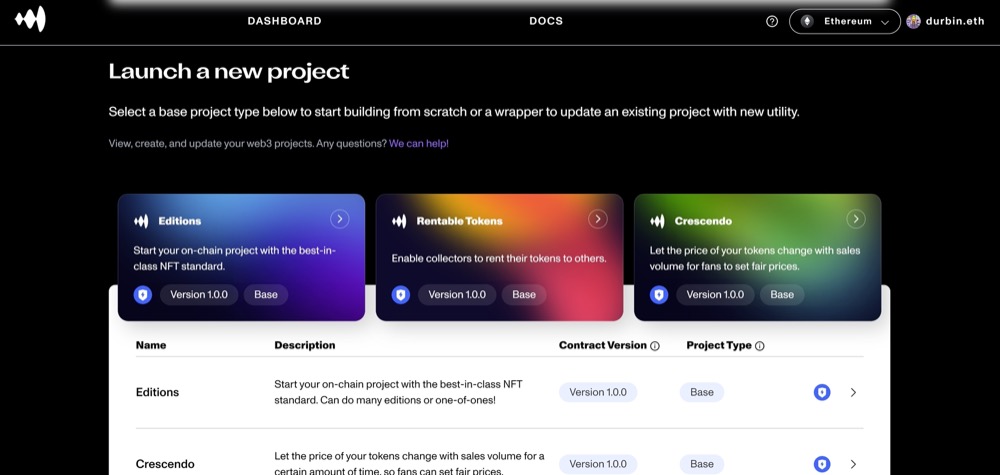 What factors about your business led your investors to write the check?
The investors we ended up going with similarly believed in the theses outlined above.  We also got along really well at a personal level with them & they believed in our team – which we are grateful for.
What are the milestones you plan to achieve in the next six months?
We'd like to see 100 apps built using the Decent protocol.
What advice can you offer companies in New York that do not have a fresh injection of capital in the bank?
Ship hacky MVPs of interesting features to quickly validate or kill assumptions.  Will also let you show demonstrable traction for things that stick. Also, in web3 in particular, many protocols (including ours!) have grants for developers and content producers – these can be a great way to bootstrap a project.
Ship hacky MVPs of interesting features to quickly validate or kill assumptions.  Will also let you show demonstrable traction for things that stick. Also, in web3 in particular, many protocols (including ours!) have grants for developers and content producers – these can be a great way to bootstrap a project.
Where do you see the company going now over the near term?
Focus on cross-chain middleware and novel smart contracts to solve for scalability, improve developer experiences through incremental improvements to the SDK, and empower creators by surfacing innovations in the HQ.
What's your favorite coffee shop or location in the city to hold a meeting?
Newsbar Union Square.
---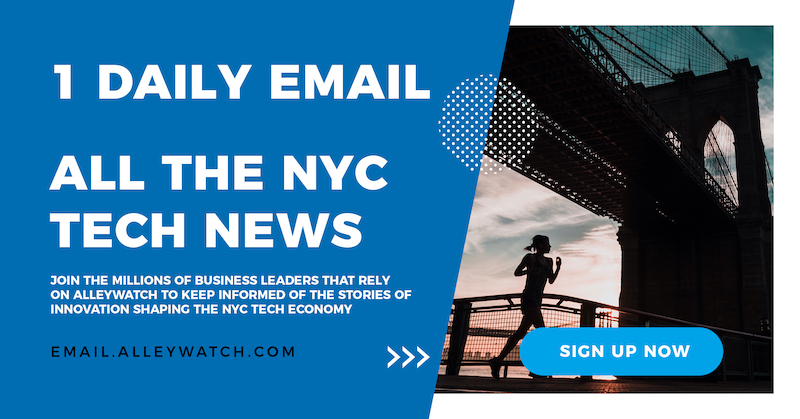 You are seconds away from signing up for the hottest list in Tech!
---