Maybe you're on vacation and want to check out a neighboring resort's pool or maybe you're in your own city but want to visit the spa at a hotel in town.  Day passes to fill this need for daycations have grown in popularity among consumers and provide much-needed ancillary, incremental venues to the hospitality industry that's still recovering from the pandemic.  ResortPass is the leading luxury marketplace for day passes that connects the two.  Featuring over 9000 leading properties across the globe, guests can book pool, spa, fitness, and cabana experiences across 250 cities. For example, in New York, you can spend a bright, sunny day at the Dream Downtown's spectacular pool for as little as $80.  The hotel is also partnered with major chains as well as luxury operators like the Four Seasons, Fairmont, SBE, W, and the Ritz-Carlton, featuring many of their flagship properties and their various amenities that have been traditionally only reserved for overnight hotel guests.  Since ResortPass' founding in 2016, the company has served more than 1.6M guest visits.
AlleyWatch caught up with ResortPass's new CEO Michael Wolf to learn more about the business, the company's strategic plans, latest round of funding, which brings the total funding raises to $37.7M, and much, much more…
Who were your investors and how much did you raise?
We have raised $26M in Series B funding. The round was co-led by Declaration Partners and 14W, with existing lead investor CRV participating, and additional new investors including William Morris Endeavor, Gwyneth Paltrow, Jessica Alba, Brian Kelly (The Points Guy), and Adam Grant.
Tell us about the product or service that ResortPass offers.
ResortPass is redefining what it means to be a guest by offering day access to luxury hotel experiences. The company has been connecting locals and visitors to hotel and resort amenities since 2016, weaving relaxation and pleasure into everyday life. We have empowered people to access experiences available at these properties including breathtaking pools, private beaches, and deluxe spas.
What inspired the start of ResortPass?
ResortPass began after our founder, Amanda, moved to San Diego and found herself wishing she could easily access the many amenities of nearby hotels. While she didn't need a room, she craved the escape and relaxation the properties offered through their pools, spas, beach access and more. As Amanda reflected on her desire, it felt like a win-win: access for the consumer and incremental revenue for the hotel. And with no existing company addressing this opportunity, ResortPass was born.
How is ResortPass different?
ResortPass has transformed the way we think about the guest, pioneering the offering of day access to amenities from over 900 luxury hotels and resorts around the world. No other company is offering day guest access to the best hotels and their offerings in the way that we are. Our geographic and partner footprint, paired with our proprietary SaaS software that helps hotels manage guest bookings positions us for unique success in this space.
What market does ResortPass target and how big is it?
ResortPass' existing 900 hotel partners are spread across 250 cities in 35 U.S. states and the Caribbean. Our rapidly expanding increasingly global footprint already include some of the biggest hotels and resorts in the world such as the Ritz Carlton, Four Seasons, W Hotels, Hyatt Hotels, Fairmont, and Westin.
From a consumer perspective, over 1.6M have already enjoyed the ResortPass day guest experience. These users include both locals excited to enjoy the amenities of hotels in their own neighborhoods as well as travelers staying elsewhere who crave hotel amenities such as pools, spas, and fitness centers.
What's your business model?
There are two sides to the business. The first operates as a day guest marketplace that allows people to easily access hotel and resort amenities such as the pool, spa, and fitness center without having to book an overnight stay. The second is our SaaS platform that allows our partners to manage and capture reservations for amenities, activities, rentals, and events for overnight guests through custom booking sites.  Our software enables hotels and resorts to both effectively manage all their inventory and tap into the largest day guest marketplace.
How are you preparing for a potential economic slowdown?
Many day passes on ResortPass start at $25, and have become a way for people to experience luxury amenities without needing to pay for an expensive or lengthy vacation.  We anticipate the day guest trend to keep rising, especially as travel prices fluctuate over the next few months. With the current economic climate, we enable locals to explore new places in their own cities for a fraction of what a full vacation would be.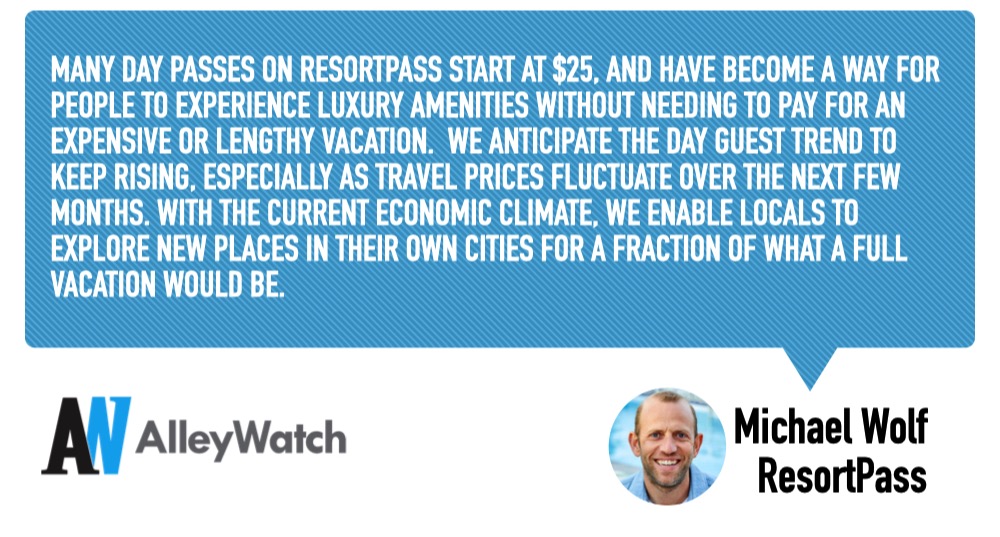 What was the funding process like?
Nearly every investor we spoke to highlighted that this climate has been the toughest to fundraise in the last 20 years. The goal was actually a more modest round, but our company metrics and message around creating an entirely new market really resonated. We were dramatically oversubscribed on the round.
What are the biggest challenges that you faced while raising capital?
Investors are much more cautious about where they are allocating funds. In addition to a strong mission and good intentions, one needs a clear proof of concept and a loyal, growing customer base to have a successful series B. We have an incredibly clear product-market fit, and it's beneficial that we have a simple business model that is easy to understand (even if more difficult to implement).
What factors about your business led your investors to write the check?
We were in a very fortunate position where we raised more than our goal.  Many of our investors are people who know the ins and outs of the hospitality industry well and recognized this is one of the biggest opportunities in the space right now. Other investors like Gwyneth Paltrow and Jessica Alba are entrepreneurs whose own companies' missions and businesses align with our focus on well-being. Our model s of delivering  an escape without requiring users to actually travel far or invest in any hotel stay to reap the benefits of a vacation really resonated with investors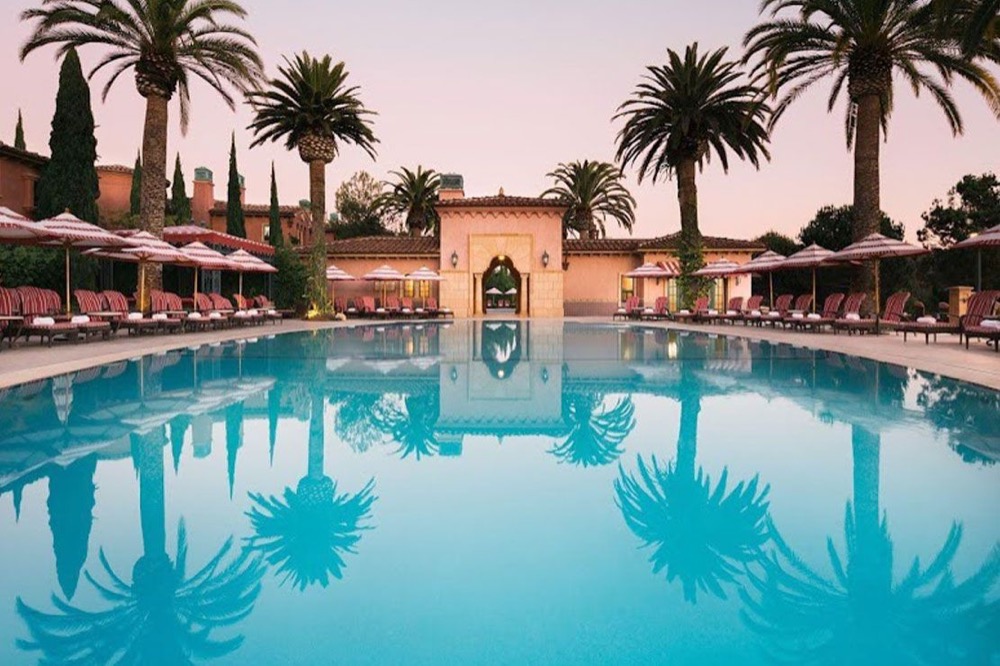 What are the milestones you plan to achieve in the next six months?
We are expanding our hotel and resort partners globally, investing heavily into our b2b software and growing our management team across sales, marketing, product, and more.
What advice can you offer companies in New York that do not have a fresh injection of capital in the bank?
Look at your business models to explore ways to bring in new revenue streams. For ResortPass, we're beneficial to both our core customers of day guests and to the hotels themselves. To be effective, you need to have a clear business model with product-market fit that is capital efficient. Sometimes the simplest ideas are the best ideas.
Where do you see the company going now over the near term?
My background is centered around scaling marketplaces, so I'm thrilled to be leading the company into its next stage of growth. At our core, we will always be a simple way to recharge, relax, and enjoy the amenities nearby.
What's your favorite restaurant in the city?
Raoul's.
---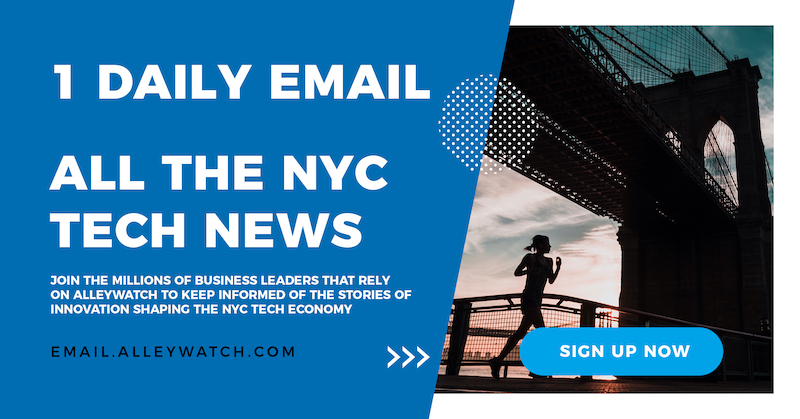 You are seconds away from signing up for the hottest list in Tech!
---