Even before the pandemic, interest in skincare was on the rise.  Multiple years of holding up the equivalent of a digital mirror through Zoom calls, staring at ourselves incessantly, has led us to pay more attention to our appearance.  The result – many are accessing professional skin care services for the first time and for others this has reinforced the importance of their skincare regimens.  Heyday is an operator of skincare studios that offer facials and access to licensed professionals that will help you select the right products from its curated selection of leading skincare brands.  The company now has 10 locations in New York, Los Angeles, and Philadelphia with 30 new locations opening through franchisees in 2023; studio expansion is planned for new markets such as Denver, Austin, and Phoenix. At its New York locations, Heyday's facials are priced at $140 for a 50-minute facial, making it convenient, accessible, and cost-friendly as compared to a full day at a spa, where facials have been traditionally centered around. To add to the consumer experience, the company is launching its own proprietary line of skin care products to be distributed at its studio locations and through its website.
AlleyWatch caught up with Heyday Cofounder and CEO Adam Ross to learn more about the business, the company's strategic plans, latest round of funding, which brings the total funding to $51.4M. and much, much more…
Who were your investors and how much did you raise?
Series B Extension – $12M led by existing investor, Level 5 Capital Partners (L5), nearly two years after our initial $20 million Series B.
Tell us about the product or service that Heyday offers.
Heyday is a facial shop, and we're looking to take the facial out of the spa, and into people's lives. We're an experienced focused services brand within our retail shops, and also sell a curated range of skincare products in our shops and also through our website.
What inspired the start of Heyday?
In my prior life in investment banking, I was doing a lot of work for beauty companies that focused on pushing products rather than helping consumers do what's right for their skin. I also felt personally, looking after my skin was increasingly confusing, expensive, and time-consuming. In speaking with my friends, everyone was equally frustrated, so I became convinced there had to be a better way. Access to professional skincare services and knowing how to look after your skin with the right products should be available to everyone, especially given the cumulative benefits of great skincare. Consumers want, and need, a much better option than what currently exists. So, we're setting out to change that.
How is Heyday different?
There's a lot we do differently – from our in-shop design, to our Skin Therapist team (and training), to our pricing model, and to our use of technology to drive customized skin care solutions for our clients. This is an industry that's been slower to adapt to evolving consumer needs compared to some other industries – and we want to change that. People will engage more regularly with skincare (particularly a younger demographic) when you address their current friction points of time, cost, and convenience. This is evident in client behavior with approximately 40% of our clients coming back to Heyday every month. An important final observation here is that our positioning focuses on self-care – we talk internally about taking the facial out of the spa and into peoples' lives. When people use the word "spa," it connotes beauty, pampering, and indulgence (and there's nothing wrong with that), but our clients think about us through a self-care lens – this is something they should be doing regularly – all part of their gym, exercise, diet self-care wheel. Our name – Heyday – is a term used more by our parents, and refers to the best periods in their lives. At Heyday, we're here to help people be the best version of themselves and have the best possible skin.
What market does Heyday target and how big is it?
Within spa services and facials, there is a ~$7.5B fragmented category. Interestingly, approx. 27% of our clients have never had a facial before, so while there's certainly an element of industry disruption, we're creatively innovating to grow the category. Parallels can be drawn from other great brands such as Warby Parker that have addressed structurally challenged industries to free friction points and a service (also concurrently offering a fundamentally superior value proposition). We're doing that with facials.
What's your business model?
We're looking to be a complete skincare solution for clients. This is a combination of both professional treatments performed in our shops, coupled with customized skin care routines at home. Our business model is both service and product (also through our website) – for men and women.
How are you preparing for a potential economic slowdown?
By focusing on the client experience within our shops – and in how we bring more innovation that holds incredible value for the client. The more reasons we can give them to come, the more we can protect ourselves.
What was the funding process like?
Like a long trip to the dentist! Ha. On a more serious note, it was fine. I used to work in M&A, so having had this experience was very valuable and served me well.
What are the biggest challenges that you faced while raising capital?
I think it was less about the fundraise process itself, but more juggling that with the daily demands of the business – you're essentially performing 2 jobs.
What factors about your business led your investors to write the check?
I think we can do something very special with Heyday. There's a substantial market that wants to have great skin and there's so much fatigue and confusion that currently exists in the market. Leading with service as a differentiator and complementing this with customized skin care recommendations leads to fantastic results. Layering on data and technology so we can elevate the discussion in skincare and take personalization and customization to the next level is a real opportunity that excites us (and our investors).
What are the milestones you plan to achieve in the next six months?
In the next six months, we will open over 16 new shops, with 30 new locations confirmed to open throughout 2023. We will also be focusing on tech enhancements, product development, and a growing talent pool as we continue our expansion efforts across the country.
What advice can you offer companies in New York that do not have a fresh injection of capital in the bank?
I think if you have limited capital, I'd say focus on proving your concept with client/customer/market depth not breadth – the right investment partner can then extrapolate. Someone told me the other day how excited they were going into all 1,700 Targets nationwide. Personally, I'd rather focus on 100-200 – learn and innovate around executing these with excellence, before committing to something broader.
Where do you see the company going now over the near term?
I see Heyday continuing to expand throughout the country –  we currently have a total of 135 committed franchise units right now, in major markets including Denver, Boston, Austin, Phoenix, etc. We will also continue to focus on enhancing the consumer experience both through product and service innovation, investing in our estheticians, and more.
Where is your favorite winter destination in and around the city?
Upstate around the Woodstock/Phoenicia area.
---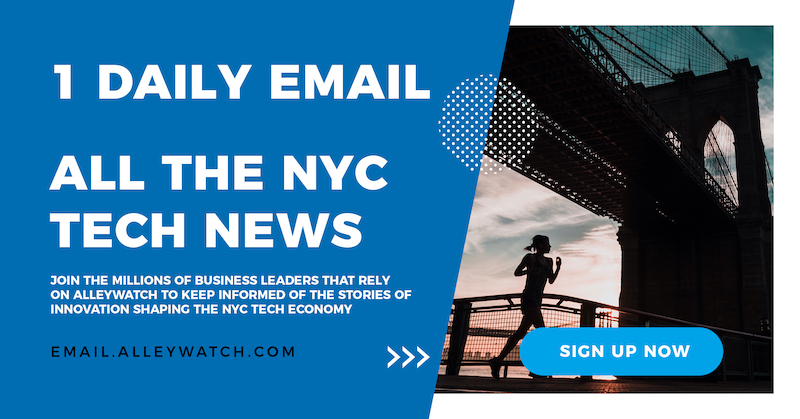 You are seconds away from signing up for the hottest list in Tech!
---