Copyright law gives creators of original works a defined set of rights when it comes to how these works are reproduced, transferred, performed/displayed, and also with respect to the creation of derivative works based on the underlying original content.  In the music industry, creators are often having their works released, reused, and repurposed without proper credit, compensation, and permission.  Baton is a collaboration protocol that plans to allow musicians to regain control over how their works are distributed, monetized, and also protected.  While the advent of new technologies like streaming and sampling provides opportunities for broader exposure for artists, it also has the unintended consequence of loss of intellectual property control and corresponding compensation opportunities.  Baton plans to solve this in three different ways with its platform.  The company has developed a proprietary media player that provides unparalleled insight for musicians into who individually is using and consuming their content, whether finished songs, beat packs, or sample libraries.  The company is also building a music collaboration protocol as well as a mixed-media collaboration protocol to expand beyond music, both blockchain-based, that will allow creators to exchange materials, track IP rights, and automate compensation arrangements.
AlleyWatch caught up with Baton Founder and CEO Gabe Warshaw to learn more about the business, the company's strategic plans, latest round of funding, and much, much more…
Who were your investors and how much did you raise?
We are excited to share that we've raised $4.2M in funding from BITKRAFT Ventures with participation from Techstars, Dorm Room Fund, NYU's Innovation Venture Fund, the Berkley Center for Entrepreneurship, Dark Arts, Franklin Templeton, Harmonic Future, and industry-leading angels.
Tell us about the product or service that Baton offers.
Baton is committed to solving the music industry's most critical challenges. Most material is unfinished or unreleased, but much of it is incredible. Simultaneously, creatives often struggle to receive proper credit and only a few manage to support themselves exclusively from their work.
We're building an ecosystem that provides new opportunities for creatives, delivering material to the right ears, at the right time, to foster new collaborative relationships. Alongside this, the platform is building infrastructure that protects creative IP and facilitates proper compensation, no matter how or where material is used.
What inspired the start of Baton?

Growing up in NYC's music scene, I saw how challenging it can be for even the most talented creatives to support themselves from their work. Even though there are 100,000 songs released to streaming services every day, most material is unreleased. We believe there's tremendous untapped potential here. Baton was founded to create a home for these ideas that inspires creativity, while streamlining logistical aspects of the business, so artists can focus on what matters most: the art.
How is Baton different?
Today, unfinished and unreleased creative ideas are spread across storage solutions that are not built for creatives. They do little to aid in the creative process or help artists to support themselves from their work. Baton was founded to help this material reach its full potential. In doing so, we believe it can empower countless creative careers.
What market does Baton target and how big is it?
We believe Baton can be the glue connecting communities of more than half a billion creatives, organizations, and fans.
What's your business model?
When creatives win, we win.
How are you preparing for a potential economic slowdown?
Focus on customers, always. Talk to them, solve real problems, and build a product people tell their friends about. It's always important to conserve runway where you can, but even more critical is making sure all members of the team are aligned and working efficiently together towards a common goal.
What was the funding process like?
Despite the challenging macro landscape, we'd been fortunate to raise a modest amount of pre-seed capital before participating in Techstars this past spring. We weren't planning on raising until the fall, but met BITKRAFT's Founding General Partner, Malte Barth, at demo day and immediately connected. His passion for the creator economy and shared vision for Baton's future resonated deeply with the team as we got to know each other this past summer, so we were thrilled to accelerate our timeline.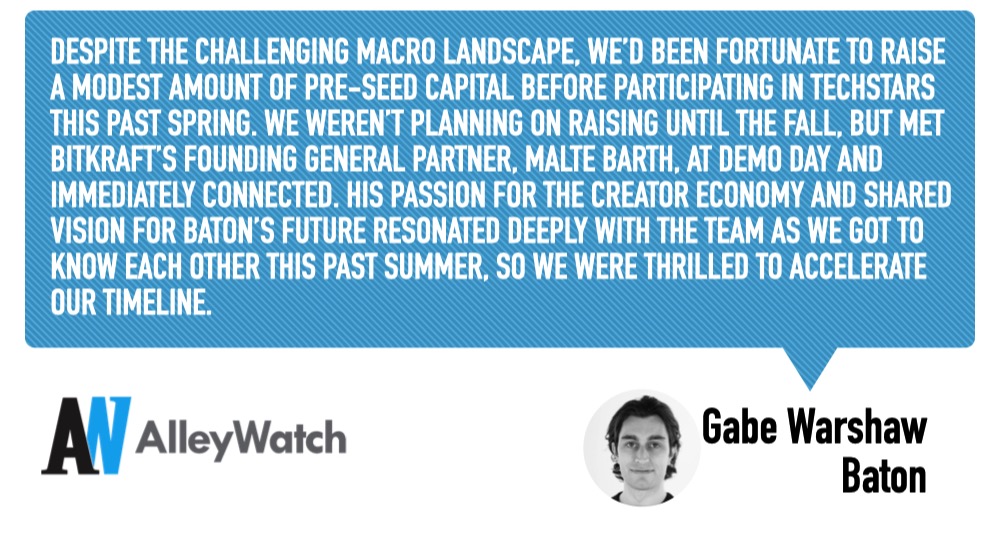 What are the biggest challenges that you faced while raising capital?
It's a time-consuming process that can quickly become a distraction from building the product.
What factors about your business led your investors to write the check?
In their own words:
"The music industry is experiencing some of the most exciting growth we've seen in recent memory. Yet, while the sector is on track to reach $73.39B in market size by 2026, collaboration infrastructure that supports creators is antiquated and does little to help them participate in the value they create for society. The Baton team is uniquely positioned to realize a beautiful vision for a better creative world. Their backgrounds as creative technologists from NYU ITP, a prestigious master's program within Tisch School of the Arts, as well as experience working at the top of the music industry, gives them a rare combination of technical skills and real-world understanding to affect substantial change in an area that desperately needs it." – Malte Barth, Founding General Partner at BITKRAFT
What are the milestones you plan to achieve in the next six months?
Our goal over the next six months is to continue to ship features that empower creative careers. Baton has existed as an invite-only creative ecosystem up until this point. We're excited to welcome many new talented creatives in the coming months.
What advice can you offer companies in New York that do not have a fresh injection of capital in the bank?
Listen to your customers. Solve real problems for them. Keep moving forward.
Where do you see the company going now over the near term?
We're a small team of extremely passionate artists and technologists. This funding will allow us to expand our team and accelerate our product roadmap. If you're an engineer or product designer with a deep passion for solving the creative economy's most pressing challenges, please don't hesitate to reach out.
What's your favorite restaurant in the city?
It's not a restaurant, but I always take friends to Veniero's when they visit NYC. It's an incredible pastry shop that's been around since 1894.
---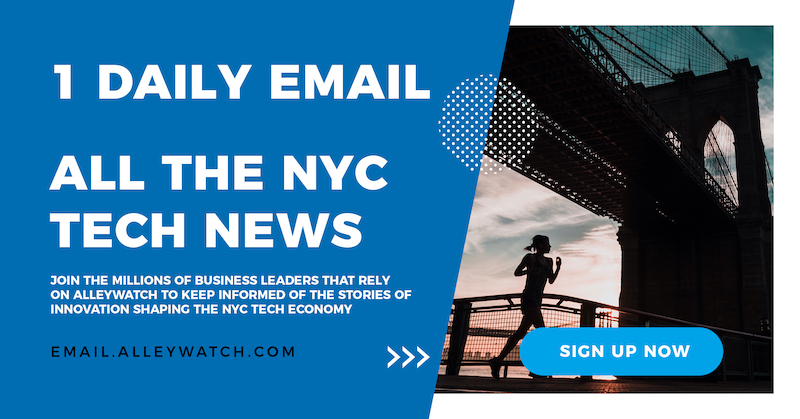 You are seconds away from signing up for the hottest list in NYC Tech!
---