Knowledge is power and this is especially true when it comes to the sales journey.  Organizations develop robust sales playbooks to employ best practices, tactics, and strategies for the various stages of the sales process.  The power of AI, LLM, and automation are creating the next generation of sales enablement.  1up is a knowledge automation platform for sales teams that employs an enterprise-level question-answering system for generating up-to-date data-driven responses for anything that may arise during the sales process using a variety of secure LLMs.  Sales professionals can access the information they need within seconds without having to fumble around for the right case study or response to a customer objection.  This ultimately allows organizations to free up time for sales reps, on-board and train new sales professionals more efficiently, and utilize the most effective techniques at the right time with confidence. With 1up, organizations can not only address complex sales questions but also respond to objections as well as complete RFPs with automation.
AlleyWatch caught up with 1up CEO and Founder George Avetisov to learn more about the business, the company's strategic plans, the recent round of funding, and much, much more…
Who were your investors and how much did you raise?

We raised $2.5M in Pre-Seed funding from 8-Bit Capital, RRE Ventures, Alumni Venture Partners, Italmobiliare, and Aviso Ventures.
Individual investors who also participated include Sam Clemens (Founder & CEO of Reprise), Natalie Diggins (Hands-On Technologist and Angel Investor), and Andrew Peterson & Nick Galbreath (Founders of Signal Sciences)
Tell us about the product or service that 1up offers.
1up automates knowledge for Sales teams.
Businesses use 1up to answer complex sales questions, respond to customer objections, and quickly complete RFP questionnaires.
At its core, 1up is an enterprise-grade question-answering system built with data privacy and accuracy in mind. It combines a company's external and internal knowledge sources and leverages multiple Large Language Models (LLMs) to generate accurate, up-to-date answers in seconds.
What inspired the start of 1up?
I am the founder of HYPR, a leading cybersecurity company based in New York City. My cofounders and I built HYPR together, and we have all worked closely with enterprise sales teams.
We've had the privilege of working with amazing sales teams in various industries over the past 2 decades. These folks have an incredibly difficult job, and no matter how much training content you provide or how many tools get purchased, sales teams struggle with the pain of getting accurate information when they need it most. 1up makes that pain go away. 
How is 1up different?
The questions flowing through 1up on a daily basis depend on sensitive internal knowledge. They cannot be Googled, cannot be asked of an AI, and cannot be easily automated.
For example:
"What's a good case study of ours I can use to close a banking customer?"
"Why did we lose that Fortune 500 deal to our competitor last quarter?"
"How do I respond if a customer asks about our SOC2 compliance?"
"What docs should I use to deploy our product in Kubernetes?"
These types of answers have historically required a human. 1up enables businesses to automate queries while ensuring accuracy, with guardrails built into the system to prevent "hallucinations" and incorrect answers. Additionally, users can ask 1up questions in bulk, dramatically decreasing the time it takes to fill out lengthy questionnaires.
What market does 1up target and how big is it?
Our customers are primarily sales teams at businesses ranging from 50 to 5,000 employees. We work closely with tech companies, although we have users in the education and healthcare industries too.
What's your business model?
1up is a SaaS-based product with a per-seat licensing plan.
How are you preparing for a potential economic slowdown?
1up is a knowledge automation platform, and we see automation as something that can be recession-proof. When times get tough, people look to automation as a cost-cutting and efficiency measure. 1up fits that mindset perfectly.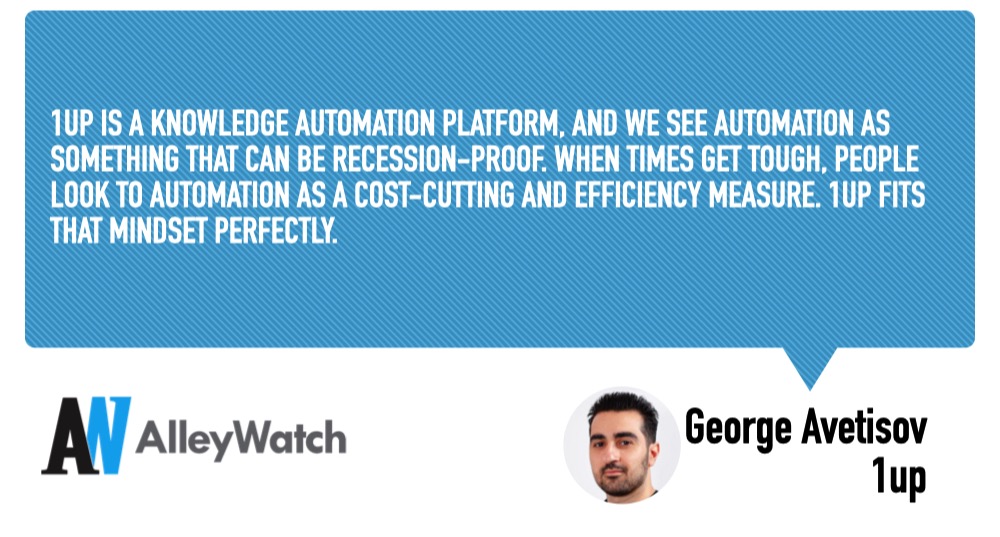 What was the funding process like?
Having raised more than $70 million in my career, I can safely say that times have changed. The economic downturn has definitely made investors more skeptical and patient than they were in the ZIRP era. VC's are now more focused on efficiency and the many I've talked to are interested in the nuts and bolts of a company. I like this new state as I believe investors should have more than a surface-level understanding of who and what they're investing in.
What are the biggest challenges that you faced while raising capital?
At my first company, I could barely get a VC to reply to an email. Now, as a second-time founder. it was easier to get introductions and conversations, but that also meant the expectations were higher. We really wanted to make sure we had a tight story that stood out from the noise and made sense.  I think we did a decent job.

What factors about your business led your investors to write the check?
I think the market opportunity combined with the sheer lack of good quality tools for sales teams. Our ideal buyers are bombarded with underwhelming sales tooling that takes forever to set up and costs a ton of money. Seeing 1up was refreshing for them.
Investors would introduce us to prospects who would immediately ask "How can I buy this right now?" One time we had a prospect get so excited about the demo that they asked if they could come work for us. We couldn't ask for better validation than that.

What are the milestones you plan to achieve in the next six months?
Deploy 1up to as many happy users as we can. We are heads down, focused on GTM now.
What advice can you offer companies in New York that do not have a fresh injection of capital in the bank?
Get a friend at a company to agree to be a design partner. Build something they desperately need. Get them to pay for it. If you can show just a handful of willing buyers you will raise money. (This actually isn't what we actually did but we hear it works.)

Where do you see the company going now over the near term?
Not to WeWork that's for sure. We're going to miss that place. My cofounders and I have many years of fond memories at WeWork!
What's your favorite fall destination in and around the city?
Dani's Pizza in Kew Gardens, Queens. Ask for the extra sauce slice. Thank me later.
---
The AI revolution has already begun to rewire Wall St, and its impact has been strongly felt in one growing market in particular. Because, thanks to a Harvard data scientist and his crack team, everyday people can now benefit from a previously "off-limits" investment.
The company that makes it all possible is called Masterworks, whose unique investment platform enables savvy investors to invest in blue-chip art for a fraction of the cost. Their proprietary database of art market returns provides an unrivaled quantitative edge in analyzing the art market.
With all 16 of its exits, Masterworks has achieved a profit, with recent exits delivering +17.8%, +21.5%, and +35.0% annualized net returns.
Intrigued? Alleywatch readers can skip the waitlist with this referral link.
Investing involves risk and past performance is not indicative of future returns. See important Reg A disclosures and aggregate advisory performance at masterworks.com/cd
---