One of the greatest strengths of AI is that it takes the emotion out of decision making and machines themselves do not have their own emotions.  However, this is also one of the biggest weaknesses of AI systems as they do not have the same complex psychological and physiological responses that humans do, leading to a lack of empathy.  However, AI and neuroscience researchers are hard at work to measure, understand, simulate, and react to human emotions as an AI-friendly metric.  Millionways is an emotionally intelligent language-based AI model that can be integrated into a variety of settings to understand emotional cues.  The company has developed an HR-focused solution that uses AI to determine potential cultural fit for employers during the hiring process.  In the healthcare space, the platform can spot indications of anxiety and mood swings among patient populations.   Millionways is built to be embedded, relying only on text or voice input, allowing seamless integration among use cases, each building a robust, insight-driven personality analysis. Rooted in science and psychology, the platform relies on 5,000,000+ data samples that have been trained by 25 psychologists, giving it an advantage over probabilistic language models.
AlleyWatch caught up with Millionways CEO and Cofounder Martin Cordsmeier to learn more about the business, the company's strategic plans, latest round of funding, and much, much more…
Who were your investors and how much did you raise?
millionways started as an NGO in Germany funded by high net-worth individuals and then pivoted to for-profit in Germany and later the US, raising seed investment from a network of angels and private funds. We raised a total of $10M in equity, convertible notes, grants from German philanthropists, and 8 US-based angel investors, including NFL legend Sidney Rice and Jay Elliot, former Apple senior VP and mentor to Steve Jobs.
Tell us about the product or service that Millionways offers.
Our product is an emotionally intelligent language-based AI for ongoing psychological profiling and matchmaking. For HR, we provide a platform to manage hiring automatically by interviewing applicants with our AI and gaining insights into their mindset and corporate culture fit. The value proposition is saving money by making better hiring decisions. In healthcare, we integrate into existing telehealth platforms to provide more insights and deliver monitoring of well-being.
What inspired the start of Millionways?

As an entrepreneur and author, I've dedicated my life to the question of why people don't pursue their inner passions. After years of research, I built the foundation for a unique AI model that solves a range of problem. When millionways switched from non-profit to for-profit, I was then joined by my cofounder and half-brother Max (CTO), who has an MS in mathematics and is a self-taught full-stack developer and AI expert. Together, started developing products and business models around several use cases that were solved by their unique AI solution.
How is Millionways different?
Our underlying Personality Systems Interaction Theory (PSI) model outperforms simple static models like Big Five or MBTI because personalities are not that simple. It can also be adapted to many use cases due to the ongoing and expanding research in PSI theory, e.g. addiction, depression, teambuilding etc. The AI also delivers explainable outcomes rather than being a neural network black box. It works on text input, enabling seamless integration into a huge variety of existing technology.
What market does Millionways target and how big is it?
millionways is targeting the B2B space in two areas. 1. We are targeting Human Resources functions and organizations with employee retention, hiring, mentoring and culture matching use cases. 2. We are targeting Mental Health solutions with mood, identity, and belonging use cases. More specifically, we are focused on the US market. We are actively targeting US companies, governmental organizations, and HRIS / PEO partners.
What's your business model?
Our business model is simple. We charge a flat fee for our software solution, similar to most other SaaS solutions, and a usage fee, on a per-analysis basis. Our initial pricing varies by client size, but averages about $10,000 per month in base fee and $5 per analysis completed. Additionally, we do license-based revenue share deals with businesses where our AI can be integrated to enhance their solution.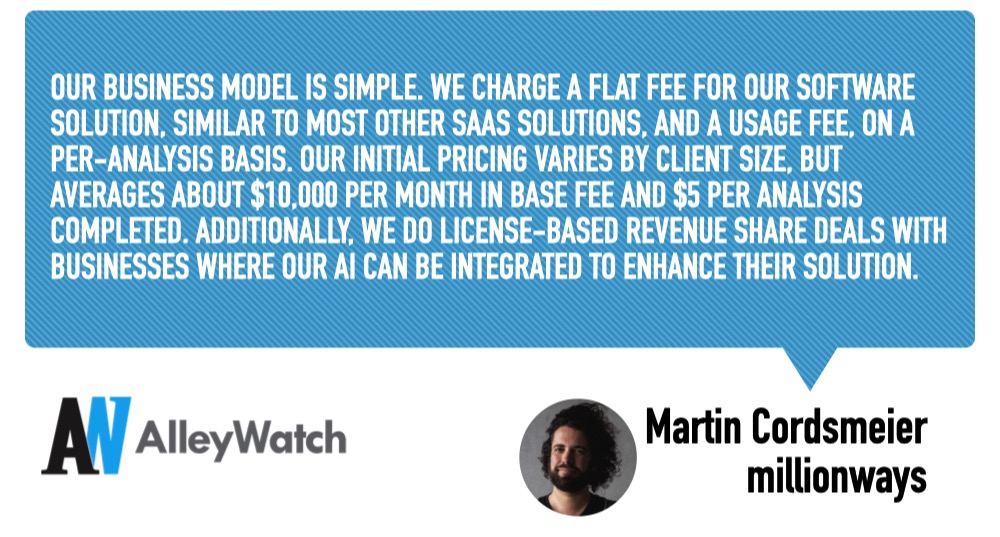 How are you preparing for a potential economic slowdown?
We do not expect the economic slowdown to heavily impact the AI market. However, since the product development has mostly been done in Germany, we have a relatively low burn rate and are focused on generating revenue.
What was the funding process like?
It was probably a bit unusual for us since we came from Germany and had to build a network before diving into the fundraising process. It took longer than expected and happened through networking only.
What are the biggest challenges that you faced while raising capital?
It was hard to explain our unique product, especially since it is a core technology ready to be plugged into existing platforms rather than a standalone product. We struggled especially with VCs and had more success with Angel investors who immediately got the impact and potential of our AI.
It was hard to explain our unique product, especially since it is a core technology ready to be plugged into existing platforms rather than a standalone product. We struggled especially with VCs and had more success with Angel investors who immediately got the impact and potential of our AI.
What factors about your business led your investors to write the check?
The versatility of the solution and the amount of business use cases where our solution can have a significant economic impact.
What are the milestones you plan to achieve in the next six months?
We are currently approaching major businesses to partner with and aim to establish various joint ventures where our solution contributes to a unique product in various verticals.
What advice can you offer companies in New York that do not have a fresh injection of capital in the bank?
Bootstrap, focus on what you need to build and sell first and try to go out and build your network by talking to people about your idea and product.
Where do you see the company going now over the near term?
The company will hopefully grow rapidly as it is driving revenue by forming partnerships in multiple venture verticals.
What's your favorite coffee shop or location in the city to hold a meeting?
The Hugh on Lexington.
---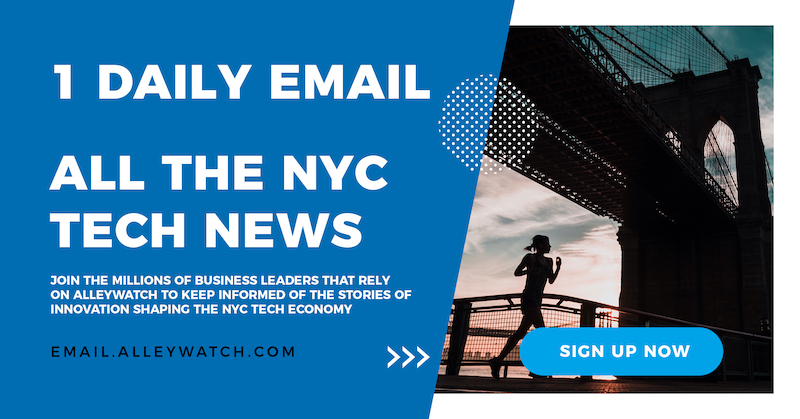 You are seconds away from signing up for the hottest list in Tech!
---