The events of the last three years have shown that digital transformation is necessary for even the most traditional industries. Many industries are taking the digital leap for the first time and the waste management industry is no different.  While much of the technological advancement in the space has been focused on the handling of waste, companies are embracing technology to usher in a new era to adopt tools focused on improving operational efficiency. CurbWaste is a SaaS platform for the waste management industry that centralizes the many moving parts including CRM, task management, online ordering, invoicing, payments, asset deployment, logistics, fleet tracking, and reporting.  The versatile cloud-native platform can be used across the organization from administrative personnel to the actual haulers. The industry is capital-intensive requiring companies to frequently borrow to cover operational expenses and CurbWaste is now launching a lending unit to help waste management companies bridge any gaps. Haulers and waste companies using the platform currently process several million transactions per month, leading the company to grow revenue for four consecutive quarters since raising its initial seed round last fall.
AlleyWatch caught up with CurbWaste Founder and CEO Michael Marmo to learn more about the business, the company's strategic plans, latest round of funding, and much, much more…
Who were your investors and how much did you raise? 
We just closed our $4M seed extension round, led by TTV Capital with participation from B Capital Group and Mucker Capital. We previously raised $7.2M in seed and pre-seed funding, bringing us to a total of $11.2M raised to date.
Tell us about the product or service that CurbWaste offers.
CurbWaste is the first integrated software solution for waste and recycling haulers that combines CRM, task management, online ordering, invoicing, payments, asset management, route logistics, fleet tracking, and data reporting in an easy-to-use app and cloud-based platform.
What inspired the start of CurbWaste?
I got into waste management almost by accident; I was coaching baseball at night and working at my family's transfer station in New York City by day. I fell in love with the industry – it's critical infrastructure work that is taken for granted, and it allowed me to understand the inner workings of the city. I spent four years learning the business and started my own hauling company, Curbside, in 2016. My team and I built proprietary technology that made our operations easier and brought more transparency to the waste process. When the pandemic hit NYC, we faced challenges like everyone else but were actually able to grow the business since our operations were digitized. I had friends and competitors asking if they could use our software, and that's when I really felt the market pull.
How is CurbWaste different?
Until now, outdated waste management software has failed to keep pace with the industry's technological advancements, environmental regulations, and customer expectations for digital interactions. CurbWaste enables haulers and disposal centers to optimize their businesses by managing and streamlining operations at every step of the process, in real time.
What market does CurbWaste target and how big is it?
Waste management is an $80 billion industry, with small, mid-range and large businesses. We provide software solutions for both disposal centers and waste haulers, and our primary customers usually own small or mid-sized operations. For disposal centers, our platform provides a way to take payments and track how much waste is being processed. For waste haulers, we enable invoicing and payments, route optimization, data reporting and more. We're extremely proud that CurbWaste was built for haulers, by haulers, and so we understand the pain points that are unique to this industry.
What's your business model?
We have multiple revenue streams and are using this new infusion of capital to build out more offerings. First, as a traditional SaaS solution, we charge a monthly fee per driver, per month. We also take a percentage of the payments that are made through our platform. With our new funding, we plan to build out lending services.
How has the business changed since we spoke last year?
We have seen four consecutive quarters of growth and have been able to bring on some amazing talent to round out our core team. We've released new features while iterating on current ones based on customer feedback. The system continues to evolve, becoming easier to use while remaining comprehensive. As a startup, things move very quickly, and we're frequently tasked with bringing on customers while ramping up a newly formed team. One thing that hasn't changed, however, is that customer happiness is still our North Star. Everything we build is designed to make their jobs easier.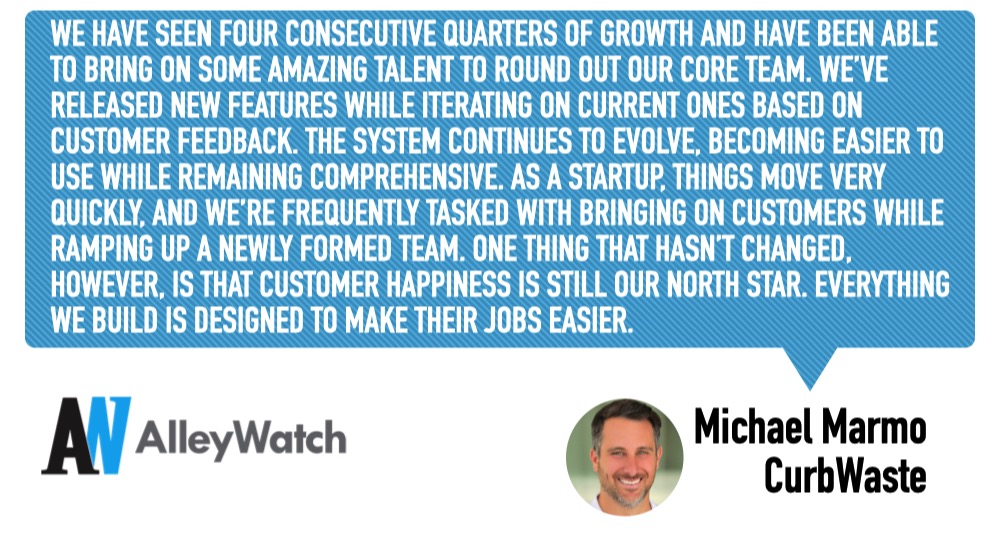 What was the funding process like?
We use Payabli to manage our automated credit card and ACH payments, and TTV Capital is one of their investors. We had been looking for an investment partner with fintech industry knowledge, and I knew TTV Capital could be a great fit. What moved the needle for me is that one of their partners had a background in waste management, so they understood our value proposition. We all just aligned right away, and that's how TTV Capital came on board as our lead investor for the round.
What are the biggest challenges that you faced while raising capital?
The market conditions were challenging, and we realized very quickly that the standards had changed. One of the hardest things to do is pitch your vision in a way that's both easily understood and authentic. After our seed round, we knew we needed to show more tangible outcomes and progress than we had previously. I wanted to be more data-driven while also communicating the greater vision of our path to success. We also had to deal with the SVB fallout during the closing process, which added a challenge that I never could have predicted. Fortunately, we aligned with a great strategic investor who got it right away and believed in us from the first call. They were incredibly supportive and passionate, and that made the process less painful.
What factors about your business led your investors to write the check?
I know that TTV Capital really liked that I had firsthand experience in the waste management industry. As an operator, you learn so many things that an outsider wouldn't know, and that's a huge advantage. They saw the market opportunity and the big picture, and they also understood our vision and what we're trying to build, especially when it comes to financial services.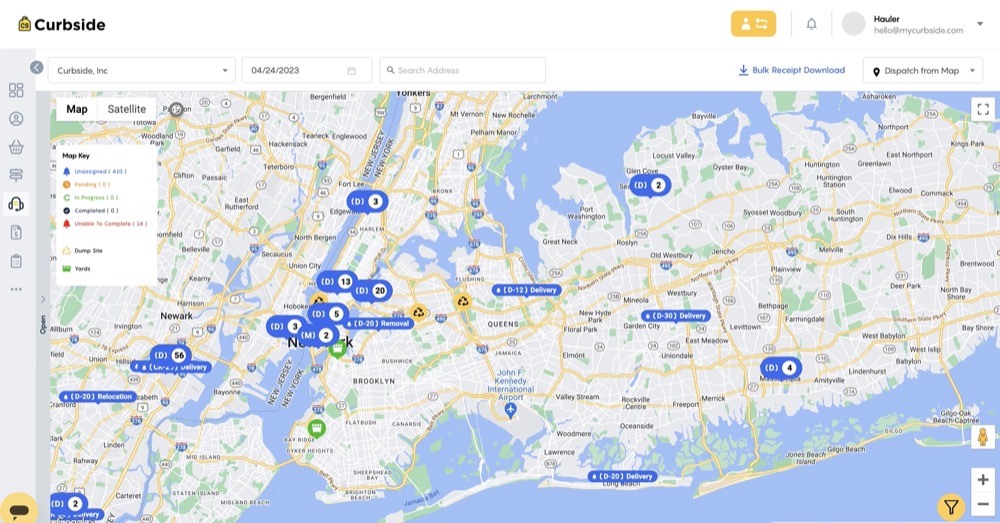 What are the milestones you plan to achieve in the next six months?
Our goals remain unchanged. First and foremost is to make the customers happy. To do that, we're continuing to grow and onboard new customers – small to mid-sized waste haulers who want to digitize their operations – and we'll bring on engineers to build out our features within our product roadmap, including new fintech capabilities. We recently brought on Don Cansino as our VP of Engineering to help lead that charge. Our product roadmap is aggressive but achievable, and we want to make sure we continue to invest in system stability.
What advice can you offer companies in New York that do not have a fresh injection of capital in the bank?
This is definitely a time to be cash-conscious and prepare your startup for the potential uncertainty that lies ahead. Try to be as lean as possible and make investments on your core competencies within your product. One thing we do is invest in our customer relationships and make sure our customers know our plan for both the near-term and the future. We value transparency with our employees and customers, and that affords us an opportunity to set realistic expectations. That goes a long way when you're trying to conserve cash.
Where do you see the company going now over the near term?
We will immediately deploy capital into R&D and customer experience. Over the course of the next year, we intend to continue to release high-quality features, complete more discovery by engaging with our customers, and continue to work towards establishing true product-market fit.
With a plethora of commuting options in the city,  how do you typically get to work each day?
I live on Long Island, so I typically take the LIRR. Our office is based in Midtown, so I can walk to the office from either Grand Central Station or Penn Station.
---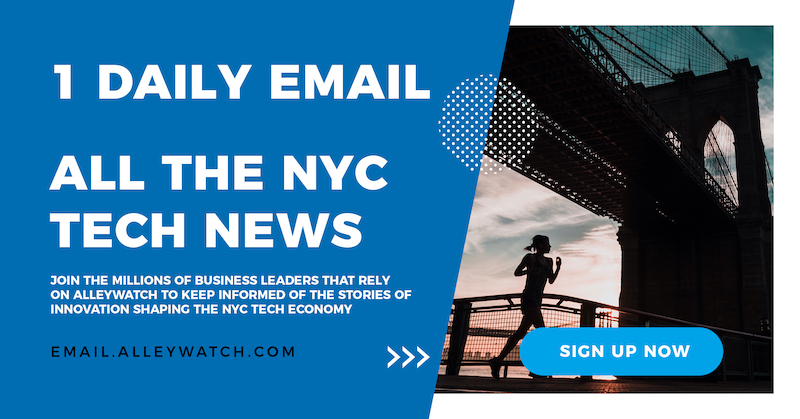 You are seconds away from signing up for the hottest list in Tech!
---